Koh Phuket
show map


find cheap flights =>

booking.com* => | agoda.com* =>


About
This largest island of Thailand is now one of the leading tourist destination in southeast asia, where everybody can enjoy tropical holidays with warm days on the beaches and nights with great dinners and nice partys. More and more tourists arrive on this island during high season from November to April. Koh Phuket and Phuket Town (80,000 inhabitants) offer everything what travellers and tourists are looking for: beautiful beaches, nightlife, luxurious hotels, excellent international cuisine and all kinds of water sports in a plentiful choice. The original Thailand, however, has been pushed to the background. Everywhere new buildings and hotel resorts had been built or are under construction, prices rised and low budget accommodations remain now only a few to get. Koh Phuket takes over the problems of other tourist destinations, which have been attracting more and more tourists from all over the world, who are not looking for the origin, but seeking fun, action and pleasure at daytime and nighttime. Travelers looking for a quiet and lonely island, should not come to stay on Phuket.
Diving and snorkeling opportunities are offered in large numbers on Phuketīs coastline and the offshore islands, other water sports are also offered sufficiently at various places. The beaches are beautiful and clean, the water is still crystal clear and skin warm. The main tourist destinations are located on attractive beaches at the west coast. Here are the big resort hotels, providing up to six star services. Center of fun and hubbub is Patong Beach with innumerable restaurants, bars, cafes and bars. Here is action and party outdoor and indoor until late night. But also at Kata Beach, Karon Beach, Surin Beach, you can have a good fun time. Patong can be reached easily by taxi or bus from all places on Phuket. And motorbikes are offered for rental in thousands of kinds.
In the northwest of the island near the airport there are still some quiet long sandy beaches with smaller hotels and bungalow units: Mai Khao in the north is part of a national park, which is still used by nesting sea turtles. The beach offers pure nature, but also deep sea currents, which can make swimming dangerous. A new hotel (Marriott) offers comfortable vacation. Nai Yang is a two kilometers long flat sandy beach with many fish restaurants and shops, ideal for children. Swimming and playing is safe and pine trees offer shadow for relaxing on beach beds. Nai Thon Beach is a quiet and beautiful beach with only some resorts and restaurants and till now quite unknown. One kilometer south lies the White Sand Resort in a very idyllic little bay, which is also accessable for public use. Bang Tao Bay is probably the most luxury place on Phuket with several luxury resorts, large tropical gardens and pool areas and very nice golfing courts.
Mainly divers are attracted by Kamala Beach, which exudes tranquility and simplicity, but is not as beautiful as its neighboring beaches. Nevertheless, close to Patong Beach, you can combine both, some silence and action. Other smaller beaches on the west coast are worth visiting for or day trip: Pansea Bay, Layan Bay, Laem Singh, Nai Harn, Rawai or Ao Nui. In the south of Phuket island are the best diving and snorkeling sites. From here you can also make boat trips to the offshore islands Ko Lone, Ko Bon, Ko Khaew, Ko Maiton (Coral island) and Ko Racha.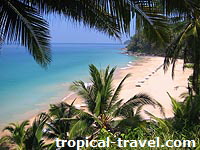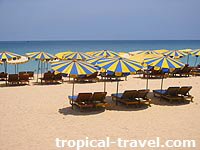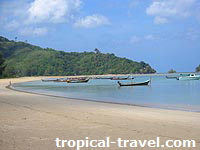 Phuketīs beaches offer beautiful clean sand and clear water, but however, hardly have coconut palm trees and some have no natural shadow. In some places casuarina and pine trees protect from too much sunshine. Therefore, sun loungers and beach beds for rental are an integral part of the image of Phuket beaches.
Perhaps the most beautiful beach unfortunately had been hit by the tsunami in 2004 and nearly washed away. At Surin Beach only a small sandy strip has been left, which is threatening to neglect. Nevertheless, the beach is in the middle of the island, just north of Patong, easily to reach by car or motorbike. Thai food is still offered there in simple restaurants. The small bay is composed by two luxury hotels at the southern and northern end. The Surin Beach is not suitable for small children because of the depth and strength of currents.
Patong has recovered from the tsunami. The nightly spectacle around the beer bars and discotheques in the Bang La Road continuous as before. New hotels were built and old ones have been renovated. The range of possibilities to spend the nights is large. Beside luxury hotels and beach resorts there are several small apartment houses for renting simple rooms in the city. We recommend an evening visit to the open air seafood restaurants in the Rat-U That Road. Not necessarily recommendable is swimming in the sea in Patong bay. The water quality is not the best, and sensitive people must expect skin rashes and pimples.
The best known beaches of Phuket are Karon and Kata south of Patong. Many luxury hotels with nice tropical gardens and pools stand along these beaches, where sunbeds and umbrellas are offered by hotel stuffs. South of Kata noi beach a road leads to the most spectacular viewpoint, from where the sandy bays of the western coast can be seen as a row of pearls on the sea. Especially at late afternoon many people join to meet for beautiful sunsets.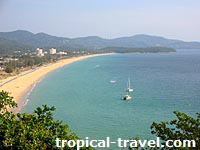 Those who donīt only want to lay on the beaches or at the hotel pools, can make offshore boat trips to other islands or rent a car or motorbike to drive around and explore the island individually, eg the National Park in the north of the island or drive to the lookout point Khao Rang. The roads on Ko Phuket are now very well developed and in good shape. They offer some spectacular views of the sea. Even a stroll through Phuket Town is worthwhile and gives impressions of this historic trading city with Chinese, Arab, Indian, Malay and Portuguese influences. The city offers a good infrastructure with banks, post office, shopping centers and a good hospital. From Phuket town piers, the express boats leaves for the islands of Ko Phi Phi, Ko Lanta and Ko Yao.
Getting there
The easiest way to get to Phuket is by plane. Thai Airways, AirAsia and Bangkok Air connect Bangkok and Phuket airport several times daily. Also from Kuala Lumpur, Singapore and some european destinations direct flights to Phuket are available. Buses, Minibuses and Taxis leave Phuket airport to Phuket Town, Patong and the other beaches at the west coast. The transportation is quite well organized by the local authorities. The larger hotels pick up guests by their own taxi or mini buses.
It is possible to travel to Phuket by bus or train or even by boat from Krabi. This is recommended only if you have other locations to visit in southern Thailand.
Accommodation
In Phuket there is every hotel and accommodation category, but the really cheap accommodations are disappearing more and more. On the west coast with its nice beaches dominate luxury hotel resorts with every comfort to international standards. In the northern and eastern parts of the island, you can find even smaller and cheaper hotel accommodations, eg in Phuket Town. Also in Patong you can find cheap rooms, if you donīt need too much comfort and service. It is not always necessary to book a hotel in advance if you are flexible, but if you are looking for a very special hotel or room, online booking can be useful, especially in high season. And it is allmost cheaper. If you are looking for bungalows directly on the beach, like on other smaller islands, will not find one. Most of the roads separate hotel complexes and the beaches. Nice hotels near the beach and near to the airport can be found at Nai Yang and Nai Thon Beach. From there you can easily explore the island. During high season, bungalows should be booked in advance (for example, here with us). The water at these beaches is shallow and crystal clear, the beach is clean and not full, and the Thai food restaurants on the beaches are good and inexpensive.

See detailed beach map of Koh Phuket with mouseover:

Patong Beach | Naiyang Beach | Karon Beach | Kamala Beach

Bangtao Beach | Surin Beach | Naithon Beach | Kata Beaches