Koh Kood
show map


find cheap flights =>

booking.com* => | agoda.com* =>


About
Koh Kood (Koh Kut) [www.koh-kut.com] is the fourth biggest island of Thailand and is located south of Koh Chang near to the border of Cambodia. Like all islands in this region, Koh Kood was a hidden and forgotten world and has started to develop infrastructure and tourism just recently. The monutains of this jungle island are totally covered with rainforests, there are only some concrete roads connecting the small villages at both coasts. The nature and the wildlife are perfectly safed. Many fabulous bays can be found around the island and the western coast presents some really nice sandy beaches and crystal clear waters. The beaches are rather short and narrow and will not yet been cleaned from rubbish frequently, but therefore they are lonely and still natural. At Taphao Beach and at Klong Chao Beach in the middle of the western coast most of the resorts are located, which offers simple and clean fan and aircon bungalows. Till now there is only one concrete road from Ban Klong Mat to Ban Salat across the island and to Ban Ao Yai in the south east. The other gravel roads are steep, narrow and really tough to drive. The resorts offer siteseeing trips to the Klong Chao waterfall, which is spectacular during rainy season with a big natural and warm water pool. The best beaches are the clean and white sandy Klong Chao Beach on the west coast, the Taphao Beach in the middle of the west coast and the Siam Beach and the Ao Phrao Beach in the south. The possibility to do own trips across the island is given by motor bike which can be rented at many places now, since the concrete raod across the island had been finished. Other places and nice bays can only be reached by boats.
The Thai and Cambodian people on Koh Kood are living from fishing and rubber plantation, and some may have business contacts to Cambodia as well. So it is easy to link a visit to Koh Kood with a trip to Cambodia, e.g. Sihanoukville, Siam Reap and Angkor. Tourism is just starting to become an economic factor for Koh Kood. Only some people can speak english. Mostly thai groups come to the island for short holidays. It is not a fault to bring candles or flashlights, since electric power supply is not garanteed 24 hours a day.
Koh Kood is still a malaria endangered region. Also sand flies and other bugs can be a problem. Sprays, oil or ointments should be brought, till this is not available on the island (make sure to have a strong cortison ointment with you to prevent very itchy effects of the bites of the sandflies). And cash money is also recommended. There are some ATMs or banks on Koh Kood, but not always working or maybe empty.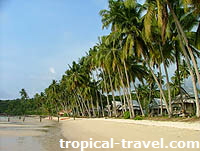 Getting there
By speedboats from the mainland (Laem Ngop pier or Laem Sok pier) south of Trat or directly from Koh Chang or Koh Mak. The boats need roughly one hour to reach the piers on Koh Kood, but not all resorts can be reached directly, so connecting boats or taxis are needed. It is recommended to ask prior to leaving, at what piers/resorts the boat will stop. The speedboats are private and will do the trip only once a day, and in low season not every day. From Trat, the boats leave mostly in the morning, from Koh Chang and Koh Mak about noon. More information on KohKoodBoat.com
Since 2014 a high speed catamaran connect Koh Kood with Laem Sok pier on a daily basis and all year round. It stops at Ao Salad in the north east of Koh Kood.
Trat can be reached by airplane from Suvarnabhumi Airport. The price for a return flight is approx. 5-7.000 Baht with Bangkokair (www.Bangkokair.com). The airport of Trat and Chantaburi lays west of Trat and has direct connection to the ferries to Koh Chang. Buses are leaving Bangkok from the eastern bus terminal Ekamai in the early morning and need 5 hours for the trip to Trat and in high season directly to Laem Ngop.
On the small island of Maisi Lek will be a little private airport, that connects Trat airport with Koh Kood and is used for guests of Soneva Kiri Resort.
Best time to go
From mid october to mid may the weather is mostly sunny and nice. The sea is calm. But there is a chance of some rainy days.
Accommodation
More than 50 resorts offer simple, clean and comfortable bungalows. The prices for fan or aircon rooms are higher than on other islands. The best resorts at the moment are High Season Resort and Tinkerbell Resort with 15 beautiful bungalows and private pools at the Klong Chao beach. Other recommended resorts are Shantaa KohKood near Thapho Beach and pier or Peter Pan Resort. Good value for money and nice location offer Koh Kood Neverland Resort, Captain Hook Resort and Ao Phrao Resort in the south. Due to the lack of knowledge of western needs, standards are not very high. Nearly all resorts are still thai family owned. It is recommended to book the room online or when arriving in Trat, Koh Chang or Koh Mak before taking the boat, since checking out the resorts on the island is very difficult. The booked resort can pick you up at the pier by boat or taxi.
During rainy season from June to September most of the resorts are closed. And also in October or May not every restaurant can provide food and services are limited.