Koh Phayam
show map


find cheap flights =>

booking.com* => | agoda.com* =>


About
Koh Chang and Koh Phayam are the northernmost islands on the andaman sea coast near to the border of Myanmar. They are small and yet nearly unknown - hidden paradises of Thailands wild west. Only 600 Thais earn their lives with growing and selling cashew nuts and rubber. There is only one little village, where the sea gypsys live, people, who are used to live on the sea and without contact to normal civilisation. In that village you can find a small store, but no bank, no doctor and no entertainment. And there are no cars on Koh Phayam, only some motocycles and of course bicycles. Koh Phayam is good for walking around and enjoying the wonderful and white beaches, snorkeling or kayaking.
The best beach is Hat Ao Yai on the southwestern coast. There are several simple bungalow resorts. The beach garbage is not cleaned away, so it looks a little dirty, tough it is a beautiful place to relax and enjoy the sunsets or swim. During high season, when many young travelers are here, the simple wodden bars are filled with loud music and fun.
Not far north of Ao Yai, the buffalo bay (Ao Kwai) is another nice place to enjoy the islands life and beauty. The beach is very clean and natural. The original growing vegetation has not been removed and the water is crystal clear from December to April. During high tide, swimming is excellent, but during low tide, the water disappears completely. If you drive or kayak around the island, you can find some other small but nice sandy bays and beaches.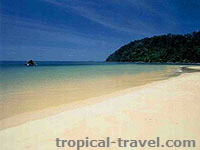 Trips to other islands south of Phayam can be made by local agencies or resorts. Very nice for snorkelling and sunbathing are the two tidy islands of Koh Kam and Koh Khangkhao one and a half hours south. And divers have to do the trip to Koh Surin Nationalpark. Trips to Myanmar are not possible from Phayam.
Koh Chang Ranong
Koh Chang is not quite as nice as Koh Phayam, but still very natural and covered with rain forest up to the 370m high hilltop. There are several small beaches around the island, which are not as white and tidy as those on Phayam. Nevertheless Koh Chang also offers some simple bungalow resorts. It can be seen and experienced as a hideaway island.
Getting there
With overland bus from Bangkok you need 9 hours, from Phuket airport, its about 5 hours to reach Ranong. Nokair offers two daily flights from Bangkok to Ranong airport.
The expressboat leaves from Ranong (Sapanpla pier) daily at 9 am and 2 pm and needs about two hours to Phayam pier. Boats to Koh Chang are more frequently per day. During the rainy season, boat traffic is depending on weather and sea conditions. Private speedboats are only available in high season. They need just one hour to get to Phayam.
Accommodation
There are several simple bungalow resorts on Koh Phayam, most of them are located on Ao Yai Beach and on Ao Kwai Beach. Prices differ between 500 and 4000 baht per night. Online booking is not yet available for all resorts. Electric power supply can not be garantueed everywhere 24 hours. The best bungalows can be found on long beach and on northern Ao Kwai Beach. The newer resorts offer comfortable and air conditioned bungalows. The restaurants are by the beach and offer a huge variety of international and Thai dishes.
On Koh Chang there are also several very simple bungalow resorts, but the quality is more simple and the prices are lower. So you can spend a night on Koh Chang for about 300 Baht. But as tourism grows, these cheap times may be over very soon.
During the rainy season from May to November many resorts are closed.