Koh Mak
show map


find cheap flights =>

booking.com* => | agoda.com* =>


About
Koh Mak (Ko Maak) is a beautiful small and flat island between Koh Chang and Koh Kood. It is not part of the Chang marine national park and therefore used intensly by agriculture, esp. rubber and coconut plantations. Koh Mak has two long and beautiful sandy beaches, Suan Yai on the northwest and Khao Beach on the southwest coast. Suan Yai has also the pier to Koh Chang and the small picturesque island of Koh Kham (with a simple resort). Ao Nid bay in the south east has the main pier to the mainland and to Koh Kood. Some nice coral reefs are spread around Koh Mak and the smaller islands nearby, where snorkeling, swimming and diving is possible by daytrips. Tourism had startet some years ago, and since then many resorts where built and infrastructure has been improved. This lead to a loss of coconut palmtrees at the beaches, which had given the island the beautiful tropical and lonely landscape years ago. All resorts are family owned and there is no big hotel built on the island yet. Koh Mak is still a place for relaxing, leasure and lazy days at the beach or for cycling across thr island by mountainbikes, enjoying the forests and great views from the hilltops. The only downside for a great stay on the island are the vexatious small sand flies. Their bites are itching like hell and remain on the skin for many days. One should be prepared by sprays and oils to keep them away, and by antihistamin drugs to reduce itching.
450 thai people are living on Koh Mak. They provide not only rooms for rent but also some restaurants, bars and small shops and minimarts. There is internet access, a police station and a school in the center of the island. Electricity is provided 24 hours now, but some plugoffs still occur day by day. In the low season some resort are closed or reduce their services.
If you travel from Koh Mak to Koh Chang, you should stopover on Koh Wai, a very nice little island for laying on the beach or swimming or snorkeling in the bay.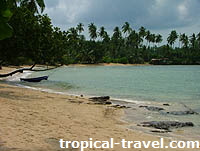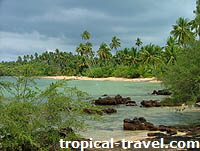 Getting there
By speedboats from the mainland (Laem Ngop pier) southwest of Trat or directly from Koh Chang or Koh Kood. The boats need little more than half an hour to reach Suan Yai pier or Ao Nid pier, or during high season Khao Beach at Monkey Resort or Makathanee Pier. At any pier you will find a taxi or will be picked up by the resort that you booked. Normally it is not a problem to check several resorts before finding the right place.
Since 2014 a high speed catamaran connect Koh Kood and Koh Mak with Laem Sok pier on a daily basis and all year round. It stops at Ao Nid pier on Koh Mak on its way to Ao Salad in the north east of Koh Kood.
From Laem Ngop and from Koh Chang there are also slow and cheaper express boats, which need 2-3 hours for the passage, but can be worthwhile due to the the beautiful seascapes, when the weather is fine and the sea calm.
Trat can be reached by airplane from Suvarnabhumi Airport. The price for a return flight is approx. 5-7.000 Baht with Bangkokair. The new airport of Trat and Chantaburi lays west of Trat and has direct connection to the ferries to Koh Chang. Buses are leaving Bangkok from the eastern bus terminal Ekamai in the early morning and need 5 hours for the trip to Trat and in high season directly to Laem Ngop
Accommodation
Meanwhile you can find more than 40 resorts on Koh Mak, providing either simple and cheap rooms or comfortable and modern, but more expensive rooms. Each resort has its own restaurant with delicious thaifood. Most of the bungalows are laying beachside and between palmtrees. Very cheap and maybe one of the nicest old style hut resorts in Thailand is Island Hut with wooden, very simple huts on the Khao beach für 500 Baht. Newer and more expensive is the picturesque Palm Beach Resort (from 2500 baht) on Khao Beach and new Bungalows at Coconut Cape Resort at the tip of Suan Yai Beach. Maybe on the best beach of Koh Mak is Lazy Day Resort.
In the center of the island on the hilltop, the Goodtime Resort has built high quality houses for rent and sale. All houses provide spectacular views over the island and the sea. Another modern resort on Khao Beach is Makathanee Resort, having bungalows from 2.600 baht and its own pier.