Similan islands
show map


find cheap flights =>

booking.com* => | agoda.com* =>


About
The 9 Similan islands Koh Bon, Koh Bangu, Koh Similan, Koh Pabu, Koh Miang, Koh Payu, Koh Payan, Koh Payang and Koh Huyong lay 80 Km west of the Thai mainland in the Andaman Sea. Koh Similan and Koh Miang have white sandy beaches surrounded by big granite rocks. The sand is brilliant white and makes the sea glistening turquoise. The inner islands are covered by dense forest. Around the islands, the water is crystal clear with fantastic coral reefs and stone formations, which make the Similan islands one of the best diving spots in southeast asia with visibilities of more than 40m. The average water depth is between 14-25m, maximum depth is 70m. Plenty of hard and soft corals, coral fishes, sharks, turtles, manta rays can be seen and even whale sharks are frequent guests here. The best diving points are:
Triple Arches (32m, soft corals, coral fishes)
Chrismas Point (34m, sea caverns, tunnels, fire fishes, manta rays, whale sharks, barracudas)
Breakfast Bend (34m, soft corals, horn corals, sand banks, octopus)
Mooring Rocks (27m, widely destroyed from dynamit fishing)
Donald Duck (14m, sand banks, crabs, sepia)
Turtle Rock ( 30m, tunnels, big stones, trigger fishes, fire fishes)
Fantasia Reef (40m, plenty of fishes, the most attractive spot on the Similans)
Beacon Reef (34m, corals, tangs, trigger fish)
Beacon Point (55m, giant corals, manta rays, eagle rays)
Elephant Head (70m, soft corals, caves, tunnels, arrows, wholes)
Deep Six (40m, sea turtles, Manta rays, Corals)
East of Eden (34m, stone corals, sharks, rays)
Stonehenge (40m, spiny lobsters, fire fishes, barracudas tuna fishes)
Barrcuda Point (34m, stone corals, bat fishes)
Bird Rock (40m, various corals, big stones)
Shark Fin Reef (40m, bat fishes, rays, sharks)
Boulder City (32m, whip corals, fire corals, fire fishes, barracudas)
Coral Gardens (24m, various corals, anemons, easy place for beginners)
Surgeon Rocks (35m, tangs, whale sharks, manta rays)
Since 1982 the Similan islands are a national marine park. No people live on the islands, only two restaurants - on Koh Similan and Koh Miang - and some simple huts and tents provide food and accomodation für guests. Most people come for snorkeling daytrips or by diving boats from Phuket or other destinations.
North of the main Similan islands group lays Koh Tachai, a beautiful unspoiled jungle island with white sandy coral beaches. Day trips for snorkeling and enjoying the beaches are offered by several speedboat companies like LoveAndaman.com. Koh Tachai has no infrastructure and no possibility to stay overnight.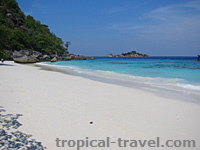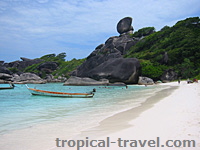 Getting there
By speed boats from Phuket or Khao Lak, needing about two hours to reach the Similans. The boats leave early in the morning and stop at various places for snorkeling and lunch time. The boats return in late afternoon. In windy weather conditions the passage on the wave jumping boats can be very tough and tiring. In good weather conditions the islands are a must see.
Accommodation
On Koh Similan and Koh Miang there are tents for rent and a few simple huts for guests, who want to stay some days. Most guests just come for a daytrip visit from Phuket or Khao Lak.
During rainy season from mid May till mid November the islands are closed.