Koh Kho Khao
show map


find cheap flights =>

booking.com* => | agoda.com* =>


About
Koh Kho Khao is a very flat coastal island 110 km north of Phuket airport and 30 km north of Khao Lak, as well as 120 km south of Ranong. Not many tourists come to this natural small island with its long and wild beaches along the western ocean coast. The east of Koh Kho Khao is mangrove forest and the flat sea between the island and the mainland is only some hundret meters wide. When the Tsunami stroke Thailand in 2004, Koh Kho Khao was damaged seriously and most of the resorts had to build up again. Now they have a warning system and the people are prepared to reach safe places in between minutes.
Till now there are six nice beach resorts in the southwest and the small village of Ban Thung Tak provide some shops and cash machines for daily needs. With rental motorbikes, the island can be crossed on concrete roads in half a hour.
The long beaches along the breaking waves of the andaman sea invite for long walks rather than for laying in the sun since there are no trees or palms on the beaches. But when the ocean is still, swimming is excellent. Activities and entertainments are reduced to the offers of the resorts. Beside trips to other islands, especially to Koh Pha, which is a sand bank island 30 minutes offshore, there is nothing much to do on Kho Khao and relaxing at the pool or at the beach bars is the option.
Since more and more european guests arrive during main season, Koh Kho Khao plans to open the old military airport in the north of the island to tourists coming from Phuket. And some new hotel resorts on the northwest coast will open in the next years. For people who like quiet and nature combined with beautiful sunsets, Koh Kho Khao can be the right choice.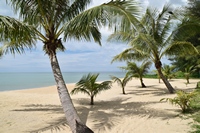 Getting there
The easiest way to go, is by plane to Phuket and then by bus or taxi north to Takua Pa in about 2-3 hours. Overland busses from Bangkok to Phuket stop in Takua Pa, but need 12-13 hours.
Pickup cars bring travellers to the pier in Ban Nam Kem and a ferry boat (by schedule) or longtail boats (individually) do the 10 minutes passage to the island.
Accommodation
There are six beach resorts on the southwestern coast which offer nice bungalows or rooms and restaurants and bars as well as some entertainment. From May to October most of them are closed. The Kib Resort is open all year long. It has a pool bar, a Spa, very nice poolside bungalows and evening discotheque on the beach. The Andaman Princess Resort & Spa is the most luxury resort there, while the Amandara Resort seems to have the best beach location with some planted cocnut palms providing shadow. The biggest resort with quiet unexpensive rooms is the Koh Kho Khao Resort right beside the Amandara Resort.