Koh Sukorn
show map


find cheap flights =>

booking.com* => | agoda.com* =>


About
Koh Sukorn is a beautiful, small und rather unknown island directly in front of the coast of Trang province. 4.000 Thais are living on Ko Sukorn, earning their money from coconut tree and rubber tree plantations. In Ban Siam Mai they have some shops and restaurants. Not many backpackers arrive at Sukorn, so the beaches and the resorts are still quiet and empty. If the weather is nice, one should take a walk on the hill top, from where you have an exciting view over the Trang island world (Koh Petra, Koh Laoliang, Koh Takiang), the andaman sea and the mainland. The only things to do are walking, swimming, sleeping, relaxing and kayaking, if the sea is calm. The Sukorn Beach Resort offers bicycles for rent. And you can easily get in touch with the friendly Thai people, who are mainly muslim.
Getting there
Flight to Trang with Nokair and Taxi/Minibus to the pier of Youngstar or Palian. From here by boat daily at noon in 15/60 minutes to Ban Siam Mai. You can also leave the boat (Tigerline) at Koh Laoliang and rent a longtail, which brings you to Sukorn for about 1500 Baht.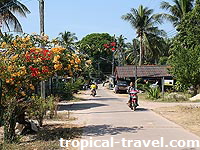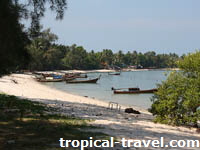 Accommodation
Not many tourists and travellers come to Sukorn since the island lays away from the main traveling routes. Meanwhile Koh Sukorn offers seven small and family lead resorts, some under coconut plam trees, but all very basic and simple. The Andaman Beach Resort, the Yataa Island Resort and the Sukorn Beach Bungalows are the best, all at the west side beaches.