Koh Tarutao
show map


find cheap flights =>

booking.com* => | agoda.com* =>


About
Koh Tarutao is the fifth biggest island of Thailand. Its name stands also for the largest national marine park of Thailand, covering 1490 square kilometers of the southern andaman sea and 51 bigger and smaller islands with beautiful and healthy coral reefs surrounding them. They are all uninhabited and have no tourist infrastructure, no hotels, no streets through the wilderness of rainforests. Some ranger stations on the bigger islands offer tents or very simple houses for guests, who want to stay overnight. On Tarutao they offer food in a simple restaurant. Nature is spectacular and well preserved, beaches are empty and dazzling white, and the water is really cristal clear. So diving and snorkeling is more then excellent around Koh Tarutao. But be careful on the beaches, they belong to sandflies and mosquitos and sometimes still seaturtles. In the forests you will find caves, waterfalls and breathtaking viewpoints, and you may see Gibbons and other kinds of monkeys, eagles, wild pigs, hornbills and hundreds of other birds or insects. At the ranger station at Phante Mallacca bay longtail boats or kayaks can be hired to explore the many wonderful bays, beaches and coral reefs around the island.
The park ranger station looks not very inviting to a visitor, cause everything is very simple and not very tidy. The people of these islands are not very much interested in tourists and the history of Koh Tautao as a prison island or hideaway for pirates show that Tarutao has never been a place for hospitality. On the eastcoast at Talo Wao bay, you can visit the place, where the prisoners must live their very hard lifes.
The one, who comes to Tarutao and experience the lonelyness and unspoiled nature, will hardly believe, that in a distance of only some kilometers, Langkawi island (Malaysia) is one of the most luxury and touristic island of south east asia.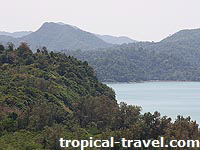 Getting there
Daily boats pass Tarutao during dry season from November to April on their way to Koh Lipe. They stop at the park ranger station. Longtails, which can be hired individually, will bring travelers to al points of interest in the marine park. Speed boats from Koh Lipe offer daytrips to Tarutao ranger station.
The park and island is closed from mid May till mid November.
Accommodation
Simple tents and bungalows without any convinience can be hired. Electricity is limited to early morning and evening hours. You need to bring lamplights and mosquito shelter (sprays, drugs, clothes, net). For reservation contact the national park office online: www.dnp.go.th