Koh Surin
show map


find cheap flights =>

booking.com* => | agoda.com* =>


About
Surin Koh is beside the Similans one of the best dive sites in Thailand. The archipelago is a national park since 1981, there are no hotels or resorts, only a small lodge and a restaurant. Koh Surin Nua and Koh Surin Tai are about 70 km west of the mainland. They are covered with dense jungle vegetation, numerous coves and glorious white sandy beaches, which attract more and more day-trippers to the islands for snorkeling, swimming and of course diving. Some hundred sea gypsies, the Chaoleh, are living on the island, catching fish and provide longtail boat trips around the islands and to the many bays. After the tsunami of 2004, they moved there houses to the saver place on the northeast coast, just south of Ao Bon. Almost all places and beaches can be reached also by walking through the island on sandy trails. On weekends and holidays especially Thais come to Surin for snorkeling.
It is wise to take some food while the only local restaurant is not very good. A small kiosk sell some articles for the daily life. Only some people are able to speak and understand english. Koh Surin is a diving target for diving boats from Khao Lak or Phuket, so in high season sometimes quite many boats and divers can be seen at the various diving spots. The average sea depth is between 10 and 20m. The most beautiful diving spots are:
Koh Ree (up to 23m, barracuda, tuna, mackerel, various turtle)
Hin Rap (up to 24m, whale sharks, manta rays, corals, turtles)
Ao Ngam May (up to 16m, shrimp, turtles, rays)
Koh Pachumba (up to 22m, soft corals, reef sharks, snappers, barracuda, tuna)
Breaker Reef (up to 22m, damaged corals, strong currents)
Hin Gong (up to 21m, soft corals, stony corals, giant clams)
Marshall Reef (up to 22m, damaged coral)
Turtle Ledge (up to 20m, antler coral, turtles, anemones, parrot fish)
Koh Turinla (up to 27m, Riffbarsche, antler coral, wrasse, shrimp, moray eels)
Richelieu Rock (up to 45m, worldwide Topspot, whale sharks, barracudas, sharks, cliff diving)
From the camp on Surin Nua, you can do of boat trips for diving and snorkeling and rent inexpensive equipment.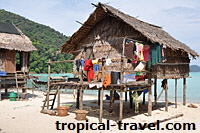 Getting there
Normal boat schedule starts from November till Mid of May. Private speedboats from Khao Lak, Ranong or Khuraburi need about two hours, slow expressboats need four hours. During high season, private boats also come from Koh Phayam or Koh Kho Khao. There is a daily slowboat from Khuraburi, which is the shortest distance, that costs 200 Baht per person. In the rainy season from May to November, the boats are irregular or even none. The islands are closed for guests from mid May till mid November.
Speed boat agencies pick up guests from Phuket and Khao Lak and drive to Nam Khem Pier (Takuapa) every morning in high season. The speed boat needs 90 minutes to the islands and the daytrip includes snorkeling, visiting the Moken village and lunch on Koh Surin. The guests will return to their hotels in late afternoon.
Accommodation
A clean camp with long houses (dormitories), simple bungalows and tents can be rented very cheap. Electricity is available only in the evening until about 10 pm. Bungalows cost 2000 Baht per night, tents from 300 Baht. Even brought tents cost 80 Baht per night. Bookings can be done 60 to 10 days prior to arrival by phone (0-7649-1378) or www.dnp.go.th