Koh Phangan
show map


find cheap flights =>

booking.com* => | agoda.com* =>


About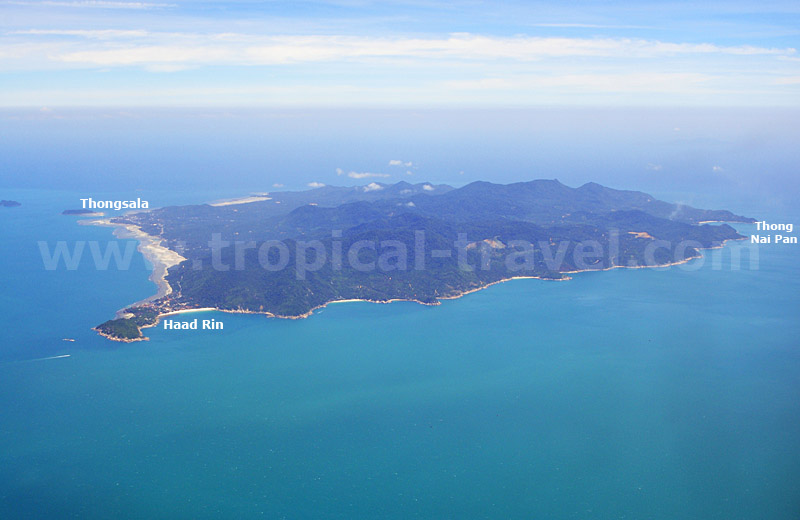 Although Koh Phangan (Pha Ngan) is only 20 km (half an hour) north of Koh Samui, it is a completely different island. The mass tourism has not yet found its way to Phangan, especially young travelers dominate the scene. Koh Phangan, and especially the Hat Rin beach on the southeastern tip of the island are famous for the frequent Full Moon Parties, which thousands of young people (7,000 to 30,000) celebrate each month, coming from all over the world for dancing all night on the beach to techno, house and trance music (website). These parties meanwhile lost their original idea of having some fun on the beach and have developed into a mass spectacle with lots of noise and garbage. Despite of the good and profitable business, more and more local people become skeptical about the mega event. But, other places on Phangan follow the profitable idea and celebrate equal parties like Half Moon Party on Ban Thai Beach (Website), that can be done twice a month.
Since the coastal road between Thongsala and Hat Rin was finally finished, the south can be reached easy and quick, not just for party times. [Note: on the morning after the parties, many still drunken motorbike riders are on the road. Many severe accidents occurs on the roads !]
Koh Phangan has many small and medium-size sandy beaches and coves, where swimming and snorkeling is well at high tide. During low tide, the sea disappears nearly everywhere on the west coast. Diving and snorkeling sites are quite excellent, even for beginners and so you will find al lot of good diving schools with international standards like PADI and SSI along the beaches. Highly recommended is Haad Yao Divers under Swiss leadership offering cheap and solid courses at three places on Phangan.
The coconut palm tree beaches in the west are beautiful, but at low tide, the sea is rather a better bathtube, than a swimming pool. The formerly beautiful Hat Rin Beach is unfortunately very crowded and dirty and for rest-seekers not very much suitable. However the place to be for party freaks for party freaks.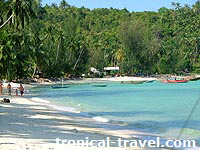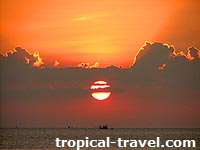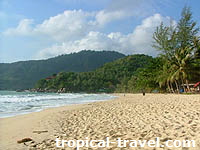 The most beautiful beaches and bays are located in the northwest and northeast of the island and offer magnificent sunsets: Hat Yao, Hat Chao Phao and Hat Salad. Hat Yao (Long Beach) is next to Thong Nai Pan, perhaps the most beautiful beach on the island. Snow white sand, enough water even at low tide and a beautiful coral reef not far from the beach invite for sunbathing, chilling and swimming. Restaurants on the beach and fire shows at night make it a romantic place for everyone.
On the east coast the two super beaches of Thong Nai Pan Bay are a must to visit. The northern bay (Noi) has a small Thai village with restaurants, bars and shops, the sea is sometimes rough with quite large waves, coming from the Gulf. The southern beach (Yai) is quiet and a little longer, the sea is mostly very calm with little waves. The drive from Thongsala to the east coast lasts about 45 minutes and is still in need for four wheel drie pickups due to the steep dirt track, that winds through the rainforest mountains. In the rainy season you should plan even more time, when the road is wet and nearly unpassable. Some people say fortunately, because the east coast should still remain a hidden secret place.
North of Thong Nai Pan lays Bottle Beach, a very nice place and even more complicated to reach. therefore still lonely and protected from too many people. The road is very steep and so the best way to get there is by boat.
Although Thongsala has developed to a village with all necessary infrastructure for Koh Phangan, it is still a genuine village for travelers with small shops, some restaurants, internet cafes, banks, motorbike rentals and not much nightlife. Everything is still quite cheap and relaxed here.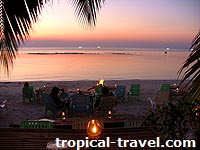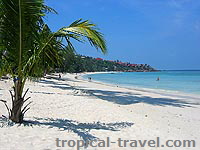 In order to explore the island individually, you can rent motorbikes (150-300 Baht per day) or take a pick-up taxi (100-250 baht per person), trying to get to the desired place. Many roads now have concrete pavement, sometimes with holes and dangerous cracks, what makes driving at night quite dangerous. For day trips from bay to bay, longtail boats are the recommended way to do it.
As on all major islands, there are also some nice waterfalls in the islands interior, but only worth watching during the rainy season, when they have plenty of water.
A good choice to see Koh tao is to rent a longtail boat for some hours and cruise around the island to see the bays and beaches on the northen and eastern coast. On individual stops one can take the chance to snorkel in wonderful clear waters with plenty of coral fishes to watch. Mango Bay in the north or Hin Wong Bay in the east are very good places for snorkeling, but sometimes very crowded by tourists.
The bungalow resort on the offshore island of Ko Nang Yuan is located very beautifully. The island is also good for snorkeling and sunbathing. Longtail boats connect Koh Tao with Nang Yuan by individual needs. Since February 2003, Koh Nang Yuan is a protected island. Day-trippers therefore have to pay an admission fee. The resort's restaurant has become a fast-food restaurant for the masses of tourists that arrive daily, esp. on holidays. Then it is full and noisy and the visit is not really worthwhile as it was in the past.
Another annoying side-effect of the daily tourism to Nang Yuan are the many longtail boats with their loud truck engines. Especially in the afternoon from 3 pm till sunset, when all tourists come back from snorkeling.
However, Ko Tao is still a beautiful tropical island, and the evenings at Sairee Beach are a real romantic pleasure.
Getting there
Koh Phangan can be reached by boat several times a day from Koh Samui (Nathon, Mae Nam Beach, Bophut, Big Buddha Pier) in half an hour or from Koh Tao in about one hour. The passenger numbers are quite high during high season from December to April and the boats sometimes are really overbooked. Get tickets before departure at the piers or in many resorts. We recommend the trip with the Lomprayah catamaran twice daily in both directions. Most boats arrive at Thongsala. At about noon, an express boat leaves from Mae Nam Pier to the east coast to Had Tien and Thong Nai Pan.
Accommodation
Koh Phangan is being reconstructed for some years now. Everywhere, new resort facilities have been built and are under construction, on a somewhat higher quality level. The prices are rising, but there are still a lot of cheap accommodations for backpackers. Large hotel complexes for increased five star comfort are still missing, and really cheap and primitive huts for less than 5 € per night are disappearing more and more. Except of Haad Rin Beach all beaches are quiet and peaceful places. Relaxing, chilling or snorkeling is what you can do here. At night, dinner on the beach in cheap restaurants, music and fire shows are the only entertainment.

Recommended resorts for travellers with a little more need for comfort and service are the Green Papaya Resort, the Salad Beach Resort, the Bayview Resort and the Long Bay Resort at the western beaches. And the Panviman Resort, the Anantara Rasananda Resort and the Santhiya Resort at Thong Nai Pan in the east of the island. Air conditioning, daily cleaning and towel exchange (not everywhere), and a safe for the equipment are offered from 3000-5000 baht per day and room.

See detailed beach map of Koh Phangan with mouseover:

Haad Rin Beach | Thong Nai Pan Beach | Northwest Beaches