Koh Yao
show map


find cheap flights =>

booking.com* => | agoda.com* =>


About
Both islands, Koh Yao Noi and Koh Yao Yai are great holiday destinations for relaxing and silent days and nights. Some nice resorts have been opened during the last three or four years. Koh Yao Noi is flat with a few hills at the northern tip and has nice beaches to relax and enjoy snorkeling on the east coast. The western coast is mangrove swamp with no beaches. At any place of the island the exciting landscape of the phangnga bay can be seen. Their is a village with shops and banks and small restaurants and concrete roads to cross and explore the island by bicyle or motorbike. If you like to eat outside the resorts, some simple roadside bars and restaurants are available. But life on the island is dominated by muslim culture and religion. The southern part of Koh Yao Noi is used for farming and especially buffalows can be seen on the grazings. The 3500 very friendly inhabitants are muslim fishermen and farmers, who ask tourists to take care of their religious behaviours and rules.
Koh Yao Yai has a more exciting landscape with rocky coasts, but not the same quality of beaches and less possibilities for activities. A long sandy beach is Koh Yao Yai beach in the middle of the western coast. Snorkeling and kayaking is possible around this island, which is inhabited by appr. 8000 Thai muslimes, working on fishing boats and rubber tree plantations. Tourism makes an increasing income for the people. Not much infrastructure is available, life is simple and quiet, just some small resorts have recently opened. A concrete road leads through the island from north to south. From the northeast of Koh Yao Yai you have a fantastic view on the Phangnga bay with its hundreds of small islands and mighty rocks. Especially at sunrise on a clear morning its a must see. Koh Yao Yai is still a hideaway and silent island not far from Phuket.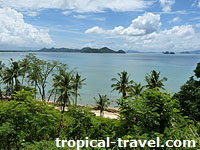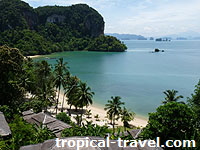 Getting there
Its possible to reach both islands of Koh Yao from Phuket or Krabi in about two hours with the regular boat. If you rent a private speed boat, its very much faster and they can bring you directly to the resorts. The connection between Noi and Yai is by longtail boats. The transfer for 100 baht needs 15 minutes.
Expressboats and speedboats are leaving the piers on Phuket and Talen pier on Krabi mainland (see map) as follows:
Bang Rong pier on Phuket (north east): every hour at daytime to Manoh pier (Ko Yao Noi)
Bang Rong pier on Phuket: noon 12.30 to Chong Laad pier (Yao Yai)
Tien Sin pier on Phuket: daily 10 a.m. and 2 p.m. to Jark pier on Yao Yai
Laem Hin pier on Phuket: daily 2 p.m. to Laem Yai pier on Yao Yai
Talen pier in Krabi: daily every hour to Takhao pier or Manoh pier (Ko Yao Noi)
Tha Darn pier in Phangnga: daily noon 12 a.m. to Yao Noi (Sukkhaphiban pier)
Nokair, Airasia and Thai Lionair offer daily flights to Krabi and Phuket from Bangkok Don Mueang.
Best time to go
From mid october to mid may the weather is mostly sunny and nice. The sea is calm. But there is a chance of some rainy days.
Accommodation
On Koh Yao Yai are already eight resorts with restaurants, from simple to luxury. In 2012 Santhiya Resort & Spa and Koh Yao Yai Village Resort opened. On Koh Yao Noi along the beaches of the east coast are twenty resorts with nice and clean rooms. High quality of facilities, environment and service offer the Koh Yao Island Resort and the KoYao Bay Pavillons. Near to the Koh Yao Island Resort, the Evason Hideaway Resort is one of southern Thailands best and most expensive hotelresorts. On the northern tip of Koh Yao Noi the Paradise Resort is a very good choice, if you are looking for a real hideaway with a beautiful beach and very nice bungalows nd a spa. Niramaya Villa Resort can also be recommended on Yao Noi.