Koh Wai
show map


find cheap flights =>

booking.com* => | agoda.com* =>


About
Koh Wai is a paradise island with a coral reef and small sandy beaches. It is part of the Koh Chang marine national park. Snorkeling and diving is excellent, as relaxing or swimming in the bay is. It is good for relaxing a few days and as a stopover from Koh Chang to other islands. There is only little space on Koh Wai, just the northern bay has enough space for laying in the sun or in the shadow of the palm trees. The water in the bay is crystal clear with plenty of small fishes to feed. The island is covered by forest and the southern coast is rocky, but if you rent a kayak, a trip around the island or to Koh Khlum is a nice activity. There is a small beach with coconut trees north of the main beach, where you can be Robinson for a day, all alone with yourself (see big photo).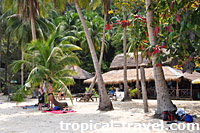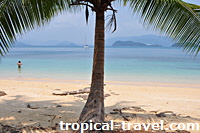 Getting there
By boat from Koh Mak or Koh Chang. The daily boat stops at Koh Wai. A speed boat reaches the island directly from the Laem Ngop pier on the mainland, if passengers want to go to Koh Wai (normally in the afternoon (30 min drive).
Daytrip tickets for snorkelling are offered by e.g. Bang Bao Boat on Koh Chang.
Accommodation
Two bungalow resorts and two simple hut resorts offer rooms on the beach. They should be contacted for booking: www.kohwaipakarang.com and www.kohwaibeachresort.com . The hut resorts have only telephone: Good Feeling Resort (+66-81-8503410) and Koh Wai Paradise Resort (+66-81-7622548).