Koh Ngai
show map


find cheap flights =>

booking.com* => | agoda.com* =>


About
Koh Ngai is a very beautiful small island in the southern province of Krabi, with one long beach on the eastern shore, a coral reef just some meters from the beach, rain forest covered hills and coconut palmtrees. It is an ideal place for relaxing and restful quiet days and nights. The western coast is steep and rocky and has no spots to stay. It belongs to the Koh Lanta national park. The only activities to do on Koh Ngai are swimming, snorkeling, sleeping, eating and doing nothing. A daily walk along the beach can be a nice routine, if you plan to stay some days or even longer. Of course there are kajaks for rent and snorkeling possibilities, but most travellers come to Koh Ngai for the romantic feeling or to enjoy some lazy days.
On the southern coast of Koh Ngai you can find two more beaches, one very small and one longer and a real beautiful hideaway. There is a simple bungalow resort (Koh Hai Paradise), that can pick you up from the pier or from the long beach.
If you are a snorkeling enthusiast, you may take the chance for a day trip to Koh Rok, where you will find beautiful white beaches and untouched coral reefs.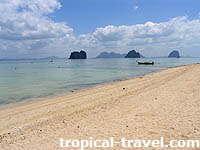 Getting there
There is a daily speedboat connection between Koh Lanta and Koh Ngai during high season. The boat leaves at Ban Saladan on Koh Lanta at 9 a.m. and needs about 90 minutes. From the southern coast of Koh Lanta is a boat service at 8 a.m., needing 1 hour to reach Koh Ngai.
From the mainland at Pak Meng pier are daily boats throughout the year needing 40-50 minutes. Pak Meng can be reached by taxi from Trang. And Trang is a 70 minutes flight away from Bangkok (e.g. by Nok Air or AirAsia).
Speddboats of Tigerlinetravelor Bundhayaspeedboat also stop in front Koh Ngai on their way from Koh Lipe to Koh Lanta and back.
Accommodation
There are ten small resorts offering fan and aircon bungalows for reasonable prices: Koh Hai Seafood Bungalows, Fantasy Resort, Chateau Hill Resort and Spa, Koh Hai Resort, Kaimuk Thong Resort, Cliff Resort, Thapwarin Resort, Thanya Beach Resort, Koh Ngai Villa, Koh Ngai Mayalay Resort, Coco Coco Cottage and Koh Hai Paradise in the south. Each resort has its own restaurant, and for daily activities they offer daytrips for snorkeling or island hopping to the islands nearby. The best part of the long beach is the souhernmost part at Fantasy Resort.