"One night" in Bangkok
show map


find cheap flights =>

booking.com* => | agoda.com* =>


About Bangkok
Many people say, Bangkok is probably the most exciting city in the world. They may return every year as a traveller, decide to live there or even find a place to work. Others complain about the heat, the smog, the noise and the chaos. Undoubtfully Bangkok is exciting and tropical. Bangkok offers entertainment, fun, leisure and freedom to do what ever you desire.
Most journeys to Thailand start at Bangkok with its 8 million people, even if you only stop-over on your way to the islands.
In Bangkok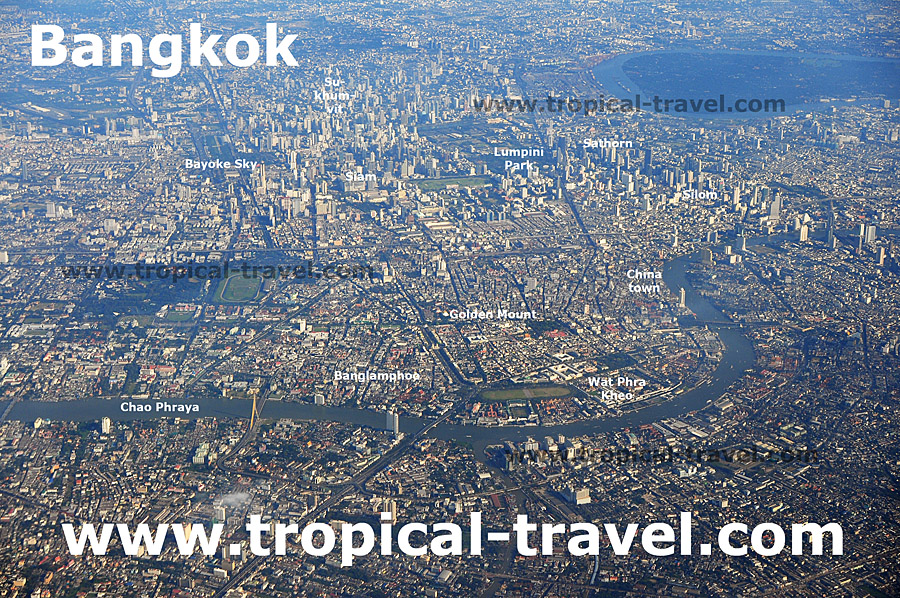 After having landed at Suvarnabhumi airport, you will easily find a well organized Taxi or Bus transport to the city. They charge you 400-600 Baht plus cost for the expressways. The drive to your hotel, which you should book in advance by internet, is about 30 to 45 minutes, depending on where you want to stay (Chinatown, Banglamphoo, Sukhumvit, Pratunam, Silom, Siam) [mouseover photo !].
Cheaper is to take the airport link to downtown Bangkok. The 30 min ride to Phaya Thai station, where you may directly change to the BTS-train-system, costs only 45 Baht.
In Bangkok you can find a taxi or a Tuk Tuk very easily. More than 40.000 taxis try to make their business. Before you enter, you should fix the price or better insist on going by taximeter. If not, you may pay more then double or triple for a short drive, what however is still cheap. A one hour drive by taxi should not cost more than 200 Baht, a short trip by Tuk Tuk should be only 20 Baht. If you choose the Tuk Tuk, you must be aware of driving through Bangkok open air, what means, that you will breathe huge amounts of waste gases and noxious fumes from hundreds of cars, trucks and motobikes. Having 35-40 degrees Celsius and more than 90% humidity, the choice of an airconditioned taxi is the better way to drive around. Beware (!): never ask a taxi driver for a good restaurant advice. He will surely drive you to an expensive and bad one, where he earns commission money.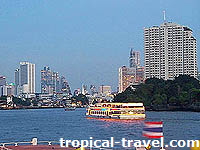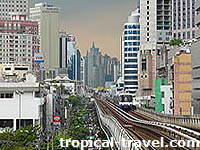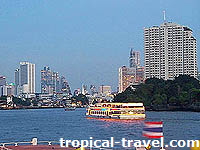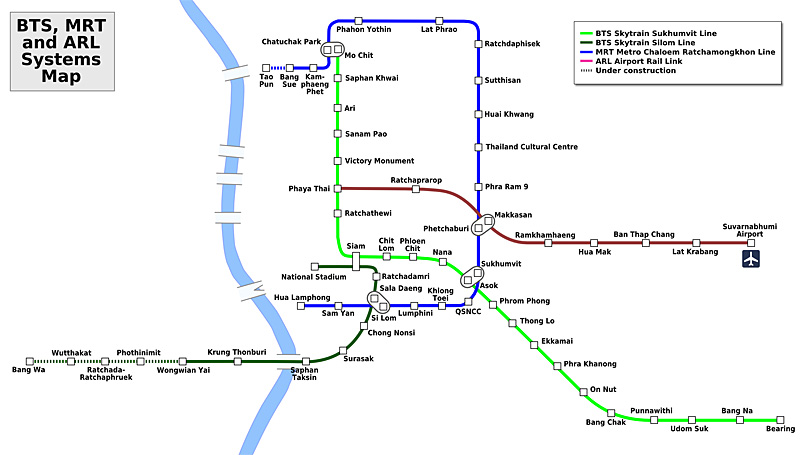 An excellent alternative to street traffic is going by boat on the Chao Phraya River. For a few Baht you can easily reach many places along the riverside without traffic jam.
And we recommend the BTS Skytrain, that connects most of the important places in Bangkok quite quick for cheap money too. You will find out, that staying in a hotel near a skytrain station, will make your living in Bangkok more enjoyable.
Places to see
Looking out for the peace and silence of the islands, you may leave Bangkok after a short stay. But you will miss a lot and should eventually come back to visit Bangkoks amazing and fascinating secrets. There is so much to discover, that even a 10 days stay or more can be worthwile. A must see is the Kings Palace, the Wat Phra Kheo (Temple of the Emerald Buddha), the Wat Pho, The Wat Arun, the Golden Mount, the Marble Temple (Wat Benchamabophit), Chinatown and the Sampeng Lane, Banglamphoo and the Khao San Road, the Sukhumvit district, the many market places, shopping malls or delicious restaurants. Very special is a so called dinner cruise on the Chao Phraya River at sunset, dining on an traditional bargeboat while slowly boating along the river.
Worth seeing is Chinatown with its traditional and crowded Sampeng Lane, the flower and fish markets and of course the night market Patpong in Silom district. Sukhumvit Road and its many sois offer a large number of restaurants, malls and entertainments and of course nightlife.
The best shopping malls are located at Sukhumvit Road, Petchburi Road, Rama I Road, Ratchadamri Road and Siam Square. Good restaurants are hidden in the many sois along the big roads and not always easy to find. There are some very nice seafood restaurants and a very special experience is Seafood Market ("if it swims, we have it") in Soi 24 Sukhumvit Road, where you can check and select your choice of fresh seafood from a huge frozen desk, before you pay it and the kitchen cooks it right in time.
If you are in Bangkok on a weekend and you enjoy walking on a market, you should not miss Chatuchak market. Every saturday and sunday the biggest market of Thailand opens its 'doors' and more then 1.000 shops, where you can find nearly everything. The market is located at the last station of the BTS skytrain near the northern bus terminal Morchit.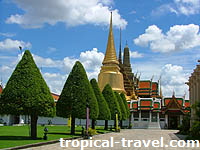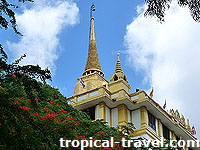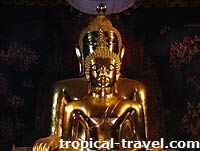 Best hotel and accommodation locations
Downtown Bangkok offers a huge number of good and unexpensive hotels. It is wise to make the decision first, where in Bangkok you want to stay or move. Should it be around Siam Square, Silom Road or Sukhumvit Road or do you like to spend your time in Khaosan Road ? After that decision is made, you can choose your accommodation online (e.g. here with agoda*). It is difficult to make concrete recommendations, but there are some good advises: Sofitel***** Bangkok (Sukhumvit) is in the heart of Sukhumvit Road. Asia Hotel**** is near Siam Sqaure and has direct access to the BTS train. A very good hotel in the heart of Banglamphoo (Khaosan) is Dewan Bangkok***.





See detailed beach maps of Bangkok with mouseover:

Altstadt/Chinatown | Sukhumvit | Silom Petchburi | Suvarnabhumi | Khaosan