Koh Lipe
show map


find cheap flights =>

booking.com* => | agoda.com* =>


About
Koh Lipe is part of the marine national park Tarutao in the southernmost part of Thailand near the border to Malaysia. The island is small, flat and surrounded by brilliant white sandy coral beaches. The few people living on Koh Lipe are Chaoleh (sea gypsies). They offer long tail boat transportation and sell fresh fish to the resorts. Tourism has become the main business, more and more travelers come to Koh Lipe, and in the main season from December to March, the island can get full. New middle price and luxury bungalow resorts were built, so everybody can find a nice place to spend some relaxing days and nights here, Its a simple life with nothing much to do. Snorkeling day trips to the outer isands of the Tarutao Marine Park or to Koh Tarutao are very much recommended.
Koh Lipe has changed so much during the last years, and it has become a nice place with all supply needed for a relaxing holiday. Meanwhile pharmacies and a small hospital are available, many good restaurants and shops along the Walking street. Electricity is no longer a problem. Bars at the beach or in the center of the island are open till late night and the atmosphere is friendly and chilling.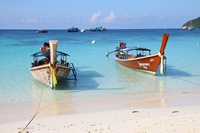 Koh Lipe and the many big and small islands north of it are paradises for snorkeling and diving with crystal clear waters and healthy coral reefs (see our video of Koh Tong). The three sandy beaches allow everbody to find a quiet place from sunrise to sunset. The 1,5 km long Pattaya beach to the south, the sunrise beach to the east and the sunset beach to the northwest belong to the best beaches in southern Thailand. If you like traveling around, you may wish to visit the malaysian island of Langkawi (Telaga, Kuah Jetty), that is just one hour speedboat trip away. Bundhayaspeedboat.com or Tigerlinetravel.com offer the trip online.
Since 2014 three ATM machines have been installed at walking street and are operating. Sometimes nevertheless empty or broken.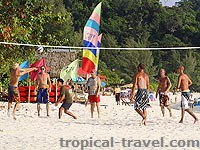 Getting there
By boat from Pak Bara via Koh Bulon or Koh Tarutao in three hours (leaves at 3 p.m.). Fly to Hat Yai (AirAsia) or Trang (Nokair) and take a Minibus to Pak Bara (needs about 2 hours) or Hat Yao Pier (1 hour). Airasia and Nokair offer a combined ticket for flight, bus and boat.
Tigerline, Bundhaya and SPCThailand boats connect Langkawi with Koh Lipe, Koh Lanta and Phuket. Guests may enter the boats at any stop destination, e.g. Koh Lanta, Koh Mook, Koh Kradan, Koh Ngai or Koh Bulon. Regular boat traffic is from mid November till mid May, in low season depending on weather conditions. From May to November it is possible, that there are no boats available, so it is advised to check before going. Langkawi can be reached very easily by plane from Kuala Lumpur. AirAsia flies from KL to Langkawi.
Accommodation
Many simple fan and air-con huts and new and modern bungalow resorts have been built in the last years. Prices are between 1000 and 9000 Baht per night. The restaurants are quite good and provide tasty Thai and seafood. And also pizza, burger and international food are available.